When I was in India, I rode in a lot of taxis, and if I wasn't arguing over the meter or getting slammed against the door, I was sitting in traffic.
Sitting in traffic is a common occurrence in India, but I never really minded because it gave me a moment to catch my breath. It also gave me time to survey my surroundings, and after 6 weeks of sitting in traffic, I noticed some commonalities. One was the trucks. Written on the backs of the big trucks are a lot of sayings like "Be Safe," which is a relative term in Asia, "Blow Horn," which everyone does constantly, and most interesting of all, "My India is Great."
I remember sitting in a taxi one hot Friday, my punjabi sticking to my back, pondering the meaning of that statement. India is a crazy, beautiful, glorious kind of a place, but is it great?
I was teaching people about human trafficking, and India is considered the epicenter of the modern slave trade. I was staying in Kolkata, just a short ride from the largest red light district in Asia. It's been 3 years, but my stomach still turns when I think about the woman who was raped by 6 men on a bus in Delhi.
I love India, I really do, but I have to ask myself, how can a country that treats women like expendable objects be great?
The Plight of the Indian Woman
Patriarchy is so entrenched in our society. Girls are unwelcome visitor(s) in our own homes, and that's how they are treated.

Poonam Muttreja, women's rights advocate
The World Economic Forum ranked India 105th in the world for economic opportunities and education for women. According to India's 2011 census, the literacy rate among women is around 65 percent, compared with more than 80 percent for men.
Often they (girls) get less food than their brothers, they're pulled out of school early to help at home or get married.

Ruchira Gupta, founder of women's organization ApneAap
According to the United Nations, India is the most dangerous country to be a girl or woman. Violence and discrimination leads to the deaths of almost two million women a year from an assortment of causes, including sexual violence and domestic violence, family disputes and female infanticide, infant neglect and poor care of the elderly, all of which affects girls and women much more than boys and men.
Sexual violence and rape are everyday occurrences. Every 20 minutes, a woman or girl is raped in India. Official data shows that rape cases have jumped almost 875 percent over the past 40 years—from less than 2,500 in 1971 to over 24,000 in 2011. Delhi has been dubbed the rape capital of India, with 17 percent of national reported cases, but most cases are never reported. In a society that values chastity, rape is associated with a loss of honor. Many victims are ostracized by their communities and neglected by the justice system.
Despite several steps being taken by the State Governments, the picture still is very grim and disappointing. Complaints are still being received regarding the non-registration of FIRs and unsympathetic attitude of police personnel towards rape victims and victims of violence. The reports of the inquiries conducted by the [National] Commission [of Women] in specific instances indicate that the level of sensitiveness and care with which crime against women should be handled is not up to the desired level.

2009 Trafficking in Persons Report
A Dying Breed
In this patriarchal society, most parents prefer boys. Although the practice of dowry is illegal, many families still put a price on their daughter's hand in marriage, and disputes over dowry continue to claim the lives of 25,000 to 100,000 women every year. Parent's don't pay dowry for sons, leading to a view of daughters as burdens.
In the wealthier states of Northwest India, parents who can afford ultrasounds often purposefully abort female children. Decades of sex-selected abortion and female infanticide have led to a heavily skewed gender gap—according to the most recent census, only 914 girls are born to every 1,000 boys.
As fertility declines, people choose not only the number of children they have, but also choose the sex of the child; and everyone wants a son.

Poonam Muttreja, women's rights advocate
The lack of girls in some states has led to an increase in bride trafficking. In states with a more balanced sex ratio, girls are kidnapped and then sold as brides to men who can't find wives. These women are referred to as "paro," a derogatory term for foreigner or stranger, and are treated as such by villagers and often their own husbands.
An infographic from CNN illustrates the problem: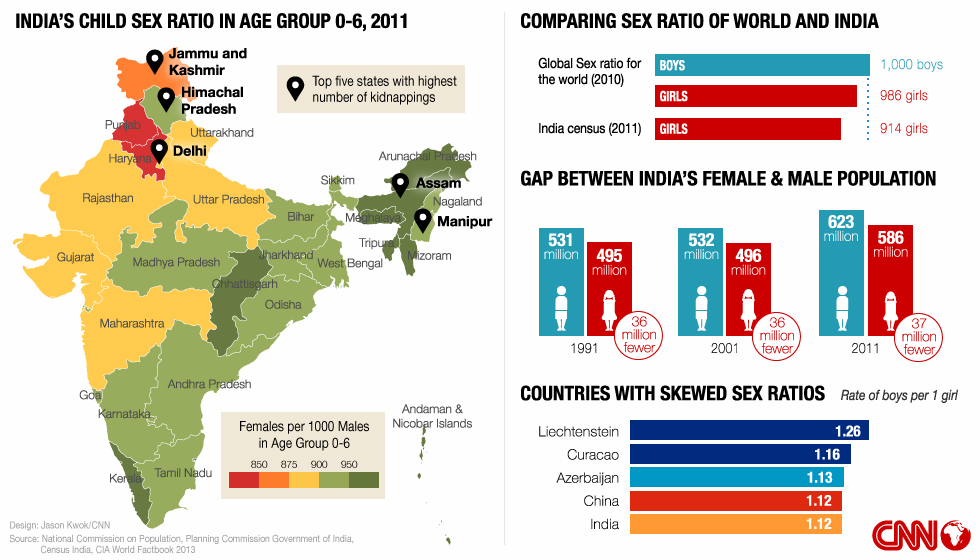 Human Trafficking
Bride trafficking isn't the only kind of trafficking happening in India. Worldwide, India tops the list when it comes to transit, destination, and source of human trafficking, with over 100 million victims. 16 million of these are victims of sex trafficking in particular, including 1.2 million child prostitutes. Every year, 200,000 Indian children are sold into slavery, many by their parents for as little as $17.
Most trafficking victims come from rural areas. Over 70 percent are illiterate and almost 50 percent come from families that make less than $1 a day. 78 percent of trafficking victims in India are from West Bengal, one of the poorest states in the country and home to Kolkata's Sonagachi, the largest red light district in Asia.
The majority of Indian sex trafficking victims are women and girls and about 40 percent are adolescents. The average age of a sex worker has dropped from 14-16 to 10-14 due to a belief that younger girls are less likely to carry sexually transmitted diseases. As a result, trafficking victims are contracting STDs at younger and younger ages.
Most of the girls get trapped in this vicious cycle forever. Unaware and often illiterate, they have little knowledge of their rights and no clue of how to return home.

Priyali Sur, journalist for CNN-IBN
Changing the System
The Indian government does have laws in place that protect women from trafficking and gender violence. The Indian penal code has more than 20 provisions that outlaw human trafficking and punish offenders. Outrage sparked by the 2012 rape of a Delhi college student has prompted decisive action against gender violence.
The government passed tougher anti-rape laws, introducing the death penalty for repeat offenders, and imprisonment for acid attacks, human trafficking and stalking. It also punishes public servants, such as a police officer, who "knowingly disobeys" the laws required in an investigation. It has prompted an increase in the number of women working in New Delhi police stations.

Madison Park for CNN
However, most activists recognize that in order for real justice to occur, mindsets must change first. Centuries of prejudice have kept Indian women from living safe, empowered lives, but as more people change their views of women, culture follows suit. For more than a decade, Suniti Neogy has worked as a community educator on health and gender issues. She says, that given proper training and self-reflection, India can learn to respect and protect its women.
The fact is most people want what is best for their loved ones. Aggressive behavior toward women isn't innate. It's learned and can be unlearned. When prompted to reflect on their attitudes towards women's education, sharing domestic tasks, having girl children, and even violence, the boys and men I work with every day can and do change.

Suniti Neogy for CNN
Reflections of Greatness
I love India. I also hate India.
I love India like you love the brother who's in prison. Or the childhood friend who's done you wrong more than once. Or the hometown you hold on to even as you pack up to leave.
I love India like I love chili peppers. It's hot and sweet and painful. It's Holi and gang rapes. It's cities of joy and kingdoms of slums. It's female infanticide and human trafficking and the caste system. It's chicken biryani and the Ganges and embroidered saris.
I love India with a strange balance of compassion and admiration and heartbreak. Disgust and disappointment and joy.
I love India because I know she is broken. I love India because I know she can change.
I love India because she is India—and my India is great.
What did you think of this post? Did I say too much or not enough? Do you have any comments, questions, or personal experiences to share? Please, tell me your opinion in the comments below.